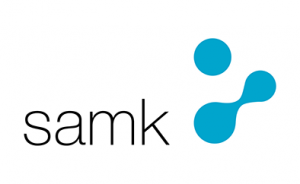 Satakunta University of Applied Sciences is a horizontal, internationally oriented university with 6000 students and 400 experts in Finnish and English programs.
Offering both Bachelor and Master level education, youth education and further education for adults, SAMK has a wide contact surface for the employment sector both
nationally and internationally.
The faculties are:
• Technology
• Service Business
• Logistics and Maritime Technology
• Health and Welfare
SAMK is the leading institution of higher education in the Satakunta region, operating on the west coast of Finland. In RDI, SAMK has a comprehensive project experience in
various national and international funding programs. RD activities are joined in SAMK with innovation approach and support for entrepreneurship.
At SAMK the project is carried out by Well-being enhancing technology (WET) research group which have been executing numerous research projects in technology in care and
which also actively participates teaching in care technology and related fields. The research group has wide collaboration network of working life partners as well as
research partners. WET research group is a multidisciplinary team targeting at developing a person's health and well-being by means of technology. The research group
identifies four main activities:
1) Development and modification of various technology applications;
2) Service Designing; and
3) Follow-up and evaluation methodology
development (user and usability research, accessible technologies),
4) Multidisciplinary knowledge transfer.
The broader scope of the research and development work also involves experts in the field of well-being and health as well as experts in business innovation and service design.
At SAMK BaltSe@nioR 2.0 project will be coordinated by Anja Poberznik who is currently a project researcher in Well-being Enhancing Technology research group. She
received the B.Sc. Degree in General linguistics and Slovakian language at the University of Ljubljana in 2012 and the B.Sc. degree in physiotherapy at Satakunta University of
Applied Sciences (SAMK), Pori in March 2018. Anja's current research work includes exoskeletons for rehabilitation, technology in neuropsychiatric disorders and social robots.