University of Skövde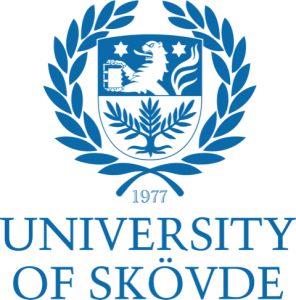 University of Skövde is a specialized university with extensive education and research in collaboration with industry and health care sectors. There is about 7500 students and 550 staff at the University. Research is conducted within five areas: Informatics, Health Sciences, System Biology, Virtual Systems, and Enterprises for the Future. The School of Health Sciences and School of Informatics are participating in this project. ICT has for many years been a profile at University of Skövde, with an acknowledged arena of expertise in research and education both nationally and internationally. Activities integrating health, healthcare and ICT are focused in this project to improve health and wellbeing among older persons in general and especially in the sector of health and social care. This integration is a prerequisite in regard to the demography.
The arena for collaboration, demonstration and test for the project Balse@nioR 2.0 is Skaraborg's Health Technology Center (SHC). The creation of this arena started in an EU funded project in collaboration with Skaraborg´s Municipality Association (15 communities in Skarabor), the region Västra Götaland and University of Skövde. Several companies have participated in the building process. It is an arena for innovation, research and education in which actors from academia, companies, healthcare and social services and society at large meet for workshops and to develop, test and evaluate products, methods, services as equipment and health and welfare technology. The activities are focused on older persons´ needs in society at large and in the sector of health and social services. Skaraborg's Health Technology Center is an arena used for workshops with target groups and testing before test in real life context. Activities and development of this arena is continually ongoing in the project BaltSe@nioR 2.0.
Project manager for Balts@nioR 2.0 at University of Skövde:
Catharina Gillsjö, PhD, FNP, RN and Public health specialist is an associated professor, educator and researcher with a specialty in gerontology and geriatrics with a profound interest in advanced practice nursing. Her research is primarily in the area of health and wellbeing of older adults living with health problems in various contexts as ordinary homes and assisted living facilities. Her research interest also encompass organization and provision of health and social care as the novel role model mobile integrated care. She has a profound interest in innovation, development and evaluation of digital solutions to promote health and wellbeing. Based on her research findings she has initiated the development of a digital application to evaluate sense of home, wellbeing, safety and loneliness which is being developed in this project. Her research also contributed to the development of the method Reflective STRENGTH-giving dialogue (STRENGTH) and the digital tool selfSTRENGTH, of which both are used in an intervention study with older adults. She also has an interest how it is to live with health and welfare technology. She designed and conducted a study exploring older adults' experiences of living with active technology at home in the project HELICOPTER. Furthermore, her research encompass projects focused on quality assurance of mobile safety GPS alarms with development of a prototype for a digital platform for training and education. She is the project leader for Skaraborg's Health Technology Center (SHC) and responsible for the development of the structure and organization, its processes and services. In workshops, tools as Business Model Canvas and STEEPLE with SWOT-analysis are used which has been of significant value for involved actors. At the university, she is active and has succeeded in building networks and collaboration with and between different actors to promote and preserve health and well among older adults. One way is the path in this project with the orientation towards creating and assuring safe, accessible and smart environments for older adults for increased independence.
Participant in the project:
Jonas Mellin main interest is to provide technological support for people in their daily lives (in particular elderly and disabled people). Ph.D. (2004), M.Sc. (1989). Jonas participate in BaltSe@nioR 2.0 arena, the Skaraborgs Health Technology Center (SHC) and is responsible for the development of the technical infrastructure that is used in the project in the arena. He is an expert in information fusion, anomaly detection, AI techniques and complex event processing, in particular in embedded systems, cyberphysical systems, distributed systems, real-time systems, dependable systems and systems based on transaction processing. Main part of research is within complex event processing and distributed active real-time databases with current main research interest in verification and validation of self-learning systems with predictability and interpretability in focus for decision-making (both automated and semi-automated). Jonas has mainly worked in the healthcare domain since 2010. He is a skilled system developer/software engineer who is well-versed in requirements engineering, design, implementation and testing of systems as well as knowledge in formal systems/mathematical proofs. He is also well-versed in evaluation using methods as STEEPLE/SWOT, UTAUT2, and GQM Jonas was the work package leader of automated decision making in the HELICOPTER project (www.helicopter-aal.eu), in which he developed an open source incremental and local anomaly detector in Java. It is adaptable and can do anomaly detection with respect to longitudinal behaviors of individuals with respect to the individual's behavior. It is part of the HELICOPTER project prototype. He has also been responsible for a work package in the WeShare2012 demonstrator focusing on environment simulation for testing health-care related applications.